In the 1989 cinematic masterpiece Bill and Ted's Excellent Adventure, our heroes travel through time to assemble historical figures for a high school history presentation.
Upon arriving in 13th century Outer Mongolia, Ted "Theodore" Logan tempts a world-conquering barbarian military genius into the duo's time machine by offering a pastry and posing the question, "Want a Twinkie, Genghis Khan?" You can view the clip here.
What does that have to do with K-12 education policy? I'm getting to that.
Over at Chamber Business News here in Arizona, I participated in the celebration of the 30th anniversary of Bill and Ted's Excellent Adventure, which of course was filmed in Arizona. My contribution was an opinion piece in Chamber Business News on how to make Scottsdale Unified's Coronado High – the stand-in for Bill and Ted's school, San Dimas High – excellent again.
"San Dimas High" is in a bad way these days: two-thirds vacant, low proficiency scores, and high real estate prices in the school boundary. Niche.com provides a map of available real estate in the Coronado attendance boundary, as well as the school's proficiency rates on the AZMerit Reading and Math exams.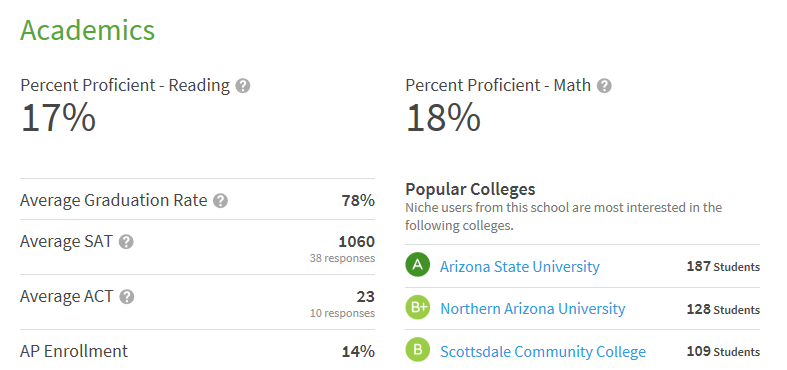 Care to buy into a high school boundary at around $400K for a high school where students don't crack 20 percent in either math or reading? Well, neither did Scottsdale Unified parents, which is why a high-school complex built for just under 2,700 students has just over 900 attending.
After the piece ran, someone who served on the Scottsdale Unified School Board told me the district had provided additional resources to Coronado, and that yoga classes were part of the plan to turn things around. That doesn't seem to be working, at least not yet.
Scottsdale Unified has magnet programs with waitlists. Academic research shows that schools that bring in another school to co-locate within their vacant space realize significant financial and academic benefits. In the Chamber Business News piece, I make the obvious recommendation: Put that space to work for you as a part of a turnaround plan.
There is an interesting, bigger-picture point here, though, that ought not be missed.
Back in 1994, Arizona lawmakers made it illegal for school districts to charge tuition to open enrollment students and created one of the nation's more robust charter school laws. Over the years, they followed up with private choice programs. But in the Arizona choice Justice League, open enrollment is Superman, charter schools are Batman, and private choice is Robin.
Arizona lawmakers laid the groundwork for a demand-driven system of education in 1994. State money follows the child, and families can select their schools. If a provider is not providing families with what they want, someone else often will.
In the Phoenix metro area, district open-enrollment students outnumber charter students almost two to one. Districts have an incentive to participate because if they don't open their doors, someone else will.
Scottsdale Unified has 4,000 students from open enrollment in a 22,000-student district. Without those students, they would be near half capacity.  Around 9,000 students live in the district but attend school elsewhere. Half of the student count at nearby Madison Elementary comes through open enrollment. If Scottsdale Unified won't satisfy the waitlist at its own magnet programs, they can't complain if Madison Elementary takes the opportunity to do so.
What is the result of all this choice on academics? There's plenty of improvement still needed, but these results didn't look so cheery back in the early 1990s:
The reaction to the San Dimas/Coronado High piece has been interesting. Why doesn't Scottsdale Unified already scale high demand models? The nearby schools apparently view it as a threat. Coronado didn't, however, get to those scores by itself; it had "help" from the elementary and middle schools feeding it.
A high demand/quality magnet on the premises generating additional revenue for the struggling high school sounds like a good idea to me. Meanwhile, in the absence of scaling high-demand schools, Scottsdale Unified enrollment continues to shrink annually while other districts and charters satisfy parental demand.
What Scottsdale Unified needs is a leader who is willing to ride the wave.
Want a Twinkie, Alberto Carvalho? No? BOGUS!
Do any of your lieutenants hate humidity and love golf by chance? EXCELLENT!