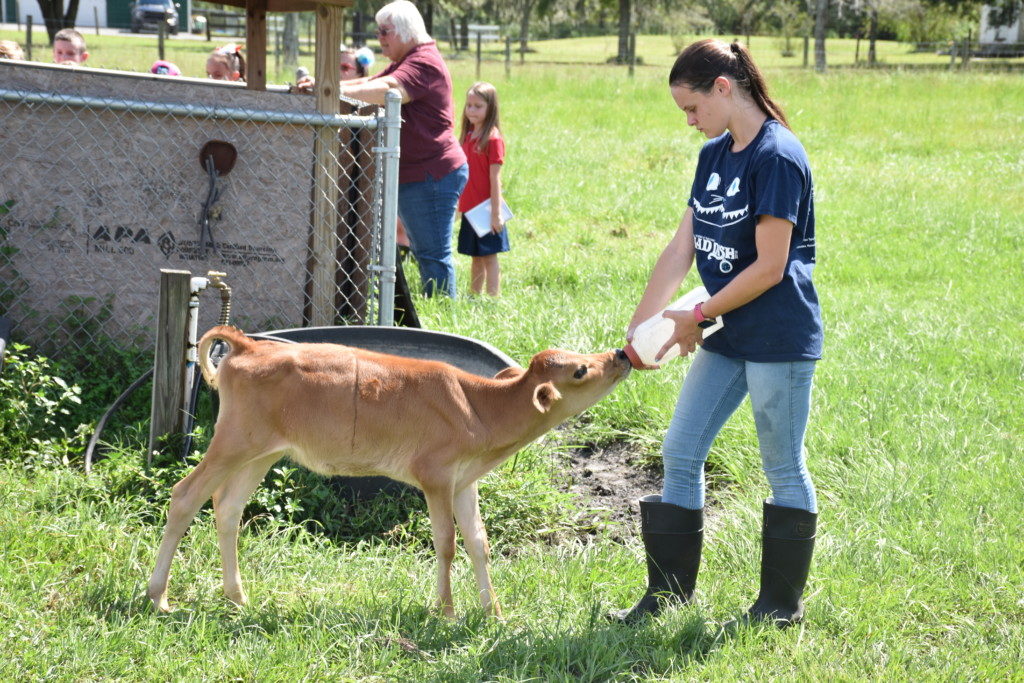 Kelly McKiernan wiped her hair from her face and placed a bottle of water to the mouth of a baby cow. Her boots were caked with mud, and an unrelenting sun beat down as "Little Bit" drank voraciously.
This scene could be any family ranch in America. But it's occurring at Academy at the Farm, a charter school outside Dade City, Florida, that is redefining classroom boundaries.
An eighth-grader, Kelly has been involved with the school's agriculture program, which includes raising goats, cattle and hogs, as well as hydroponic farming, since its inception three years ago.
"I like to learn a lot about every animal, not just one particular kind," she said. "I help out with a whole bunch of the beef. I feed them, walk them and train them to get ready for the (Pasco County) fair."
Nearby, seventh-grader Samantha Williams was tending to another goat.
"I just started in Future Farmers of America last week," she said. "I haven't gotten to show any animals yet, but I'm looking forward to it."
With a name like Academy at the Farm, one might expect the school to have a thriving agriculture program. The independent, K-8 charter school is situated on 15 acres among the rolling hills, farmland and orange groves of northeast Pasco County.
But there's much more to the school than its name may imply.
There is a three-tiered robotics program (for beginning, intermediate and advanced students), classes for yoga, boys' tumbling, outdoor hockey, and a cooking course geared toward children, among a slew of other after-school activities.
The school has earned an A rating since 2006, according to the Florida Department of Education.
Based mostly on word-of-mouth advertising, the school draws students from around Pasco, as well as Polk, Hernando and Hillsborough counties, including one family that makes a daily two-hour round trip from South Tampa.
Testimonials about the school's innovative concepts and inclusive environment have resulted in over 2,000 students on a lottery-style waiting list. This year, 580 students are enrolled.
Principal Ray Polk knows why the school has been successful.
"To educate kids, you have to have a positive school culture," he said. "We start in kindergarten, teaching them our six traits. We teach them the first week of school."
The six traits are responsibility, fairness, respect, honesty, citizenship and caring.
"We always come back to those six words," Polk said. "Parents know that's how we operate."
Polk's positive philosophy was illustrated as soon as he walked into a second-grade classroom, where students flocked to say hello and give him a quick hug. One boy said he was feeling nervous about something and clung to the principal.
Polk offered soothing words. After a few moments, the boy nodded, then went back to work.
In Janet Nathe's first-grade language arts class, students were learning to deal with bullies. Words projected onto the classroom's Smart Board underlined the lesson: "Be brave. Be bold. A teacher must be told."
Nathe has been at Academy at the Farm since it opened in 2004. She previously taught a combined 10 years at public elementary and middle schools. She said Academy at the Farm's inclusive, family-oriented approach has helped make it a success.
"We're doing what's best for children," she said. "Whatever I need, the school provides – any training I need. In public school, I taught every subject. Here, they recognize my strength is in math and it's really worked. We're all on the same team."
Standards at the school are high. Many second-graders take third-grade-level math classes, while there are two classes of eighth-graders taking high school algebra.
"If the kids need it, we try to make it happen," Polk said. "We even have three kids taking geometry this year."
In the after-school robotics class, seventh-grader Veer Bajaj and several of his friends were working on a tiny remote-controlled, four-wheeled robot. They smiled as the vehicle zipped around the classroom.
"It's cool," Veer said. "You can make it lift things and hang onto things."
Teacher Wendy Briscoe said the students were preparing for a local robotics competition. She hopes the school will make it to the state championships, held this year at the Florida State Fairgrounds in Tampa.
"I have the support from parents, other teachers and administrators," Briscoe said. "That's what helps make our program stand out. We also have an online coding curriculum."
This year, the school established a newspaper club. The goal is to produce one paper a month. On a recent weekday, dozens of newspaper club members filled a classroom, eager to get the project started.
"We can totally do this," said Samantha Beatty, who leads the club and teaches fourth- and fifth-grade writing. "We're currently working on a name for the paper. We're starting to give out jobs (to the students) and looking at how other schools have done newsletters."
Polk smiled as he watched the newspaper meeting unfold. The students were interested and engaged, and they were working toward a clear goal.
On his way to the barn one afternoon, Polk, a Dade City native, exchanged waves with several parents in the after-school pick-up line.
At 63, he is fulfilled in what has become his second career.
Armed with an associate's degree in accounting, he ran a NAPA Auto Parts franchise with his brother for years in Dade City. He was in his 30s when the store closed. He didn't have a clear next step until a friend – and educator – asked him to substitute teach at Pasco Elementary School in Dade City. He enjoyed it so much that he went back to college and earned a bachelor's degree in elementary education.
For several years, he worked as a consultant for Pearson Education, a publishing and assessment service for schools, students and corporations.
But the lure of the classroom was strong, and he returned to teaching. One day, he got a visit from an old friend, Mike Romm, Academy at the Farm's first principal.
"He wanted to add technology to the curriculum and get his kids going," Polk said. "So, I went there and installed their first big computer lab."
He has no plans to retire.
"I love doing this way too much," he said.
He got to the barn in time to see a team of students running with hogs around a large field. The hogs were on leashes, and the students gently swatted them with light pig whips to keep them moving. The heat was relentless, though, and the hogs were hosed down with water after their brief jaunts.
As the day drew to a close, first-grader Aiden Guaino approached Polk with a small plastic bucket. Inside were five eggs recently hatched by one of the chickens.
"You can't get them better than that," Polk said. "Fresh from the nest."
About Florida's charter schools
Florida is home to more than 650 public charter schools, enrolling more than 295,000 students. Sixty-two percent are black or Hispanic; more than half qualify for free- or reduced-price lunches. The Florida Department of Education classifies 189 charter schools as academically high-performing.