It shouldn't be a secret that some Florida school districts perform better than others, despite more challenging demographics. Yet for years, it's been a fact hidden in plain sight. Now, though, a leading think tank is giving the Legislature and the Florida Board of Education a compelling reason to take a closer look.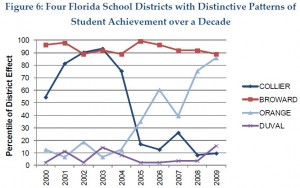 A new study from the Brookings Institution, released this morning, relays what FCAT data has been trying to tell us. Some Florida districts are chugging ahead despite a heavier load of high-poverty kids, while some with lighter loads lag. Some are making sustained gains relative to the pack, while others progress in fits and starts. The differences are puzzling, fascinating and, if you happen to live in an underperforming district, maddening. Yet they've been given scant attention by researchers, reporters, policy makers and advocacy groups.
Stepping into the vacuum, Brookings' Brown Center on Education Policy analyzed a decade's worth of test data for fourth- and fifth-graders in Florida and North Carolina. It controlled for race, income and other variables. And it came away with two findings: 1) School districts account for only a small percentage of the total variation in student achievement – 1 to 2 percent. (Teachers account for about 7 percent). But 2) the differences between districts are still so great that by the end of the school year, a kid in a higher-performing district can be nine weeks ahead – a quarter of a school year ahead – of a like student in a lower-performing district. Over time, the accumulated deficits would obviously be staggering.
"We suggest that a variable that can potentially increase productivity by 25% is important," the researchers wrote. "These are differences that are large enough to warrant policy attention."
It's not just Florida and North Carolina that should be crunching more numbers. As the report notes, there are roughly 14,000 school districts nationwide. In this age of accountability and choice, parents routinely compare schools, and all kinds of think tanks compare states. But districts? Not so much.
The Brookings researchers pointed to districts that showed distinctive patterns relative to other districts – they were either consistently high performing, consistently low performing, dramatically rising or dramatically tanking. In Florida, the districts that fit that bill were Broward, Duval, Orange and Collier, respectively. These districts weren't necessarily the ones that made the most pronounced pattern in each category. And the researchers offered a number of cautionary caveats, including, again, that they only looked at data for two grades, and that comparisons were made "relative to their demographic odds" – not to a set standard like FCAT pass rates.
But still, the trend lines punctuate the point: District performance deserves a spotlight. Continue Reading →