Four years from now, Florida school districts will be expected to have a computer or tablet for every student in their classrooms, allowing digital devices to replace many of their paper worksheets and cardboard-bound textbooks.
Will they be ready?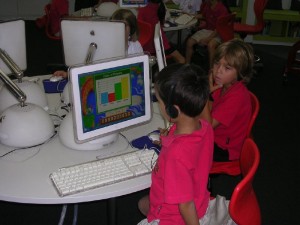 The state Board of Education on Tuesday is set to hear a report on districts' progress toward the state's digital learning goals.
The districts reported in surveys taken last semester that 70 percent of their classrooms meet the state's wireless specifications, and they offer students more than 918,000 desktop computers, tablets and laptops  that meet the state's specifications. That's more than one device for every three students enrolled in Florida public schools.
But a closer look at the survey results shows wide variation from one school district to another, and sometimes between schools in the same district. Ten districts reported student-to-computer ratios below 2-to-1, outpacing the goals laid out in the Florida Department of Education's strategic plan. At the same time, half a dozen reported student-to-computer ratios higher than 5-to-1. (The ratios do not include computers that fall short of the specifications set by the state. See the full surveys here, and a compilation of self-reported student-to-computer ratios here).
State Sen. John Legg, R-Trinity, who chairs the Senate Education Committee, said the survey data has limitations. He likened the surveys to someone placing their hand in a pool of water to test whether it was hot or cold. They help officials take the "temperature" of school districts around the state. But the data on the number of devices or the strength of their broadband connections may be imprecise because it is self-reported It also might not tell the whole story about whether school districts are prepared to make the shift to digital instruction.
"You can have devices and no infrastructure," Legg said. "You can have devices and infrastructure, but no professional development, and no content."
He is sponsoring legislation intended to give officials a clearer picture. SB 790 would earmark about $100 million for technology funding. But the state board would have to approve a detailed technology plan that ties the growth of digital learning to improving student achievement. Before they receive the money, school districts would have to submit a plan to the state explaining their plans for training teachers and improving student results.