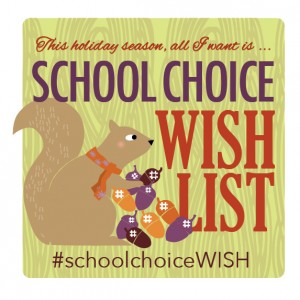 This week, we posed that question to many of you on Twitter and got an amazing response: more than 1,000 tweets!
In the meantime, we also posed it to some stalwarts in the school choice movement, and asked them to write a short blog post in response. Next week, we'll begin publishing their fun, thoughtful and provocative answers.
Here's the all-star line-up:
Monday, Dec. 23: Jon Hage, founder and CEO of Charter Schools USA.
Tuesday, Dec. 24: Robert Enlow, president and CEO of the Friedman Foundation for Educational Choice.
Thursday, Dec. 26: Joe McTighe, executive director of the Council for American Private Education
Friday, Dec. 27: Dr. Howard Fuller, board chair, Black Alliance for Educational Options
Monday, Dec. 30: Julio Fuentes, president and CEO, Hispanic Council for Reform and Educational Options
Tuesday, Dec. 31: Peter Hanley, executive director, American Center for School Choice
We hope you enjoy the posts as much as the #schoolchoiceWISH event. It was a hit! Continue Reading →