Editor's note: This is the second post in our series on the Democratic Party's growing divide over ed reform and ed choice.
I consider myself a proud progressive Democrat. However, I find myself on the outside of my party while defending the most progressive stance I have ever taken.
Tackling the injustices of education, and the outcomes that such injustices present, has been at the forefront of my legislative career. So I was taken aback by the opposition I received from my Democratic colleagues. Though I expected some opposition from those who reflexively oppose any change, never did I imagine the level of pushback I actually received. After supporting lifting the cap on charter schools, and sponsoring opportunity scholarship legislation for children with special needs and low-income students, I was ostracized by my party and progressive institutions in North Carolina.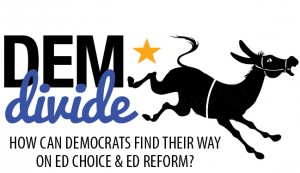 This pushback has gone beyond policy disputes. Many times I have received personal slights. In an action reminiscent of high school days, the legislative black caucus has sought to exclude me from their traditional lunch table in the cafeteria. There have been senior legislators, from my own party, who came to my office and threatened me politically and personally. I had the teacher's union, a group ostensibly devoted to harmony among members, call me and say things I thought only happened in the movies.
To say I was unprepared for such pushback is an understatement. It hurts me to be accused of being a false progressive. I once worked for Progressive Majority, and was a senior staffer for Congressman Dennis Kucinich, arguably the most progressive member of Congress, and certainly the most progressive presidential candidate we have had in over two decades. Despite my proven history, I was called a token, a sell-out, and naïve, among other names.
So why does my party take such a conservative stance on an issue with such big implications? Why does my party feel comfortable doing the same thing over and over again, when they know the outcomes? I think there is a historical reason for this opposition, on two fronts. Continue Reading →