Editor's note: This is the third post in our series on the Democratic Party's growing divide over ed reform and ed choice.
Mayor Rahm Emanuel is the in the political fight of his life. As a result of challenging the status quo by fighting for reform in Chicago Public Schools, Emanuel's reign as mayor of one important cities in the United States is not guaranteed to continue.
Here's one reason why: the mayor polls poorly among the city's many African-Americans. In fact, only eight percent of them would support Emanuel if the election were held the today.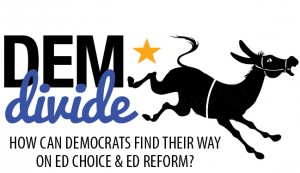 That's one of the reasons why Chicago Teacher's Union President Karen Lewis is currently entertaining the idea of a possible mayoral run. According to a recent Chicago Sun Times poll, she was leading Emanuel 45 percent to 36 percent with 18 percent of the likely voters undecided.
Previously, the Mayor faced an even tougher fight against another potential candidate, Cook County Board President Toni Preckwinkle. Although she withdrew, a race against Preckwinkle showed Emanuel losing by 24 points.
While, recent Ed Choice Illinois polling shows the Mayor now ahead by 12 points generally and by 3 points in the African-American community, it is clear his greatest challenge is with African-Americans. How did the Mayor get into this situation?
When he first entered office, Emanuel rightly assessed that African-American neighborhoods were getting the short end of the stick when it came to the quality of the education they received.
Emanuel looked to the education reform community for solutions. Chief among them was the concept of making schools accountable by tying eligibility for public dollars to performance.
That's why he expanded high-performing charters like Noble Street and Urban Prep and shut down the highest amount of low-performing schools in American history – the majority of which were located in African-American communities.
But, in doing so, he made a fatal flaw. Continue Reading →