Earlier this year, during the last week of Florida's legislative session, House Speaker Will Weatherford stood in the rotunda of Florida's Capitol, posing for pictures with student activists who thanked him for helping push through a bill that had divided legislative Republicans. Earlier that day, the Senate had teed up a vote to grant in-state tuition to immigrants who had come to the country illegally as young children.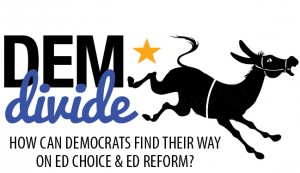 The activists, many of them Latinos, were now posing for pictures with the Republican Speaker, who, still in his thirties, may have a long political career ahead of him and who, at the same time, was helping to push separate legislation to expand school choice. It was possible in that moment to imagine the self-described acolyte of Florida's "education governor" rebuilding a more diverse, right-of-center coalition like the one that helped Florida elect two Bushes but frayed in two straight presidential elections as the state backed Barack Obama. It was possible to see him laying the groundwork for an equal opportunity platform in which education would be a key plank.
This week, it also became possible to envision Democrats seizing that mantle – if they can resolve their own internal feuding enough to beat Republicans to it. The timing turned out to be ideal for "Dem Divide," a series of redefinED posts that explored Democrats' current divisions on ed reform and parental choice – and ways they might be overcome.
As Dana Goldstein noted last Sunday on MSNBC, "the politics have changed."
The Obama administration is at odds with the two major teachers unions on charter schools, teacher tenure and other issues, with tensions that trace back to the 2008 campaign, when the unions supported Hillary Clinton. But, as Goldstein suggested, Clinton may be preparing to triangulate toward an embrace of charter schools, too, as her husband already has. Why? Because from New York to Indiana to Florida, the news is increasingly Dem vs. Dem.
It's worth recapping what the voices in the redefinED series had to say about it.