Arizona: New statistics show the state has the second-highest percentage of students enrolled in charter schools in the nation (Today's News Herald). Gov. Jan Brewer signs off on expansion of school voucher program, adding kindergartners and increasing funding for all students who qualify (Arizona Daily Star).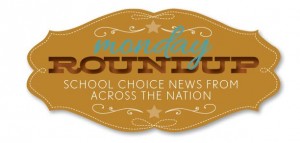 Washington, D.C.: New study shows district and charter schools suspended one out of 10 students in the 2011-12 school year (Washington Post). Mayor Vincent Gray talks about blurring the lines in school choice, suggesting elementary charter schools feed into traditional middle schools and vice versa, among other ideas (Washington Post).
Delaware: The state approves three new charter schools, including one that offers its students internships (The News  Journal).
Georgia: Atlanta public schools take fight against charter schools concerning unfunded pension liabilities to Georgia Supreme Court (Atlanta Journal-Constitution).
New Jersey: Gov. Chris Christie's administration puts another three charter schools on probation and issues warning to 11 others in a quest to raise standards (NJSpotlight). Some Camden district teachers want to open their own charter schools (Philadelphia Inquirer).
New Hampshire: A judge rules the new education tax credit law violates the state Constitution's ban on sending public money to religious schools, but the program can continue to provide scholarships for secular schools and homeschooling (Concord Monitor).
Louisiana: Gov. Bobby Jindal signs off on a parent trigger bill that allows parents to petition to shift control from some failing Recovery School District schools back to the local system (Times-Picayune). The state Board of Education approves a new course choice program that will allow public school students to take hard-to-get classes online (The Advocate).
Florida: The woman spearheading a charter conversion in Manatee County has ties to Fund Education Now, an organization that has opposed charter school expansion (Sunshine State News). Rowlett Magnett Elementary  will be the first public school to convert into a charter in the past five years (Sarasota Herald-Tribune).  A Marion County school board member suggests some cost-saving ideas to save teachers jobs, including shutting down or charging students for the IB program (Ocala Star Banner). Some private schools in Florida are signing up for Common Core training (redefinED). Pembroke Pines agrees not to privatize its charter school system, but teachers will have to take pay cuts (Sun-Sentinel). A tax credit scholarship helps single father send his son to private school (redefinED). Gateway Charter School in Fort Myers tells students to finish up Florida Virtual School online courses, or pay up (Associated Press). Continue Reading →