Editor's note: Joe McTighe is executive director of the Council for American Private Education. This is the third post in our #schoolchoiceWISH series.
As children, my sister Moo and I were regularly prompted at holiday gatherings to sing "All I Want for Christmas is My Two Front Teeth," a crowd-pleasing performance made even more so by our mangling all instances of the "s" and "r" sounds in the song and strategically placing a wad of Black Jack chewing gum to simulate missing teeth. As best I can recall, that was the last time I was ever asked to announce a Christmas wish in a public forum – until now.
My school choice wish is simple:  a level playing field.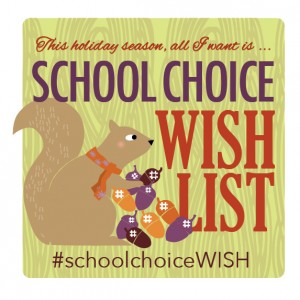 It's no longer a secret that charter schools are taking a toll on private schools. The evidence is overwhelming. A study by Abraham Lackman, published earlier this year in the Albany Government Law Review, estimates about one-third of students in charter schools in New York State come from Catholic schools. The results have been a slew of Catholic school closings, a drain on government budgets, and an enormous cost to taxpayers.
At the national level, a report last year from the Cato Institute estimates that at the elementary school level in highly urban districts, about 32 percent of charter students come from private schools.
Religious and independent schools are accomplishing here and now what everyone wants: low drop-out rates, high college-going rates, above-average student performance.  It makes no sense whatsoever to let these schools fade away. Their closings represent an astounding loss of opportunity for families and children.
Understandably, the private school community has mixed emotions about charter schools. Charters advance school choice, enabling some parents to make a better match between the needs of their children and the offerings of a school. And, after all, a pillar of private education is the protection of a parent's right to choose a child's school.
But another pillar is the preservation of pluralism in education, which ensures a variety of truly distinctive schools from which parents can make that match, including faith-based schools, which offer a dimension of education unavailable in any public school. Continue Reading →